Travel
10 Best Attractions in Dubai That Are Worth Visiting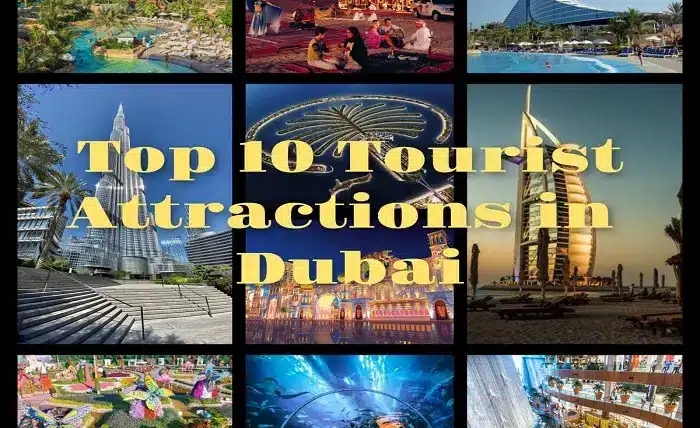 Dubai, a vibrant and cosmopolitan city in the heart of the United Arab Emirates, offers an abundance of captivating experiences that beckon travelers from all corners of the world. This modern marvel in the desert stands as a testament to human ingenuity, blending tradition with innovation in a unique and awe-inspiring manner.

From architectural marvels that pierce the sky to cultural gems that transport you back in time, Dubai's array of attractions is nothing short of spectacular. Join us as we embark on a journey to discover the essence of this dynamic city, where each experience is a chapter in a story of boundless wonder and luxury.
Burj Khalifa:

The Burj Khalifa, Dubai's iconic architectural masterpiece, is a must-visit attraction. As the world's tallest building, it offers a remarkable experience, especially in December when the weather is pleasant. Ascending to the 124th or 148th floor provides awe-inspiring views of Dubai's intricate cityscape, the sparkling Arabian Gulf, and the vast desert. Clear December skies often treat visitors to breathtaking sunsets, adding a touch of magic to this incredible experience. Don't miss the opportunity to explore this towering wonder that symbolizes Dubai's ambition and innovation.

Dubai Safari Park:

Dubai Safari Park is a captivating attraction that beckons visitors with its rich biodiversity. This sprawling oasis is a delightful escape from the urban bustle, offering a chance to get up close and personal with a wide variety of animals from around the world. The Dubai Safari Park ticket price is affordable, making it accessible to all. Stroll through lush habitats, catch a glimpse of majestic creatures, and embark on an educational journey that highlights the importance of conservation.

Dubai Safari Park ticket price

ranges from USD$20 to USD$30 based on age and access, ensuring accessibility for a wide range of budgets. This makes it an educational and family-friendly destination that offers a deep dive into the natural world without breaking the bank.

Dubai Frame:

The Dubai Frame is a captivating architectural wonder that beckons visitors to its towering embrace. Situated in the heart of the city, this iconic structure frames both the old and new Dubai, offering a unique perspective on the city's evolution. As you venture into its towering heights, you'll be treated to breathtaking panoramic views of the past and present, encapsulated within its colossal golden frame. The Dubai Frame is a must-visit attraction that beautifully blends history and modernity, allowing you to witness the city's remarkable transformation while standing within its awe-inspiring structure.When it comes to visiting the Dubai Frame, you'll find a variety of ticket options, and the

Dubai Frame tickets offers

exceptional value, ranging from an affordable AED 50 to AED 110.

Dubai Mall:

The Dubai Mall stands as a world-renowned shopping and entertainment destination that captivates visitors from around the globe. This sprawling complex offers a luxurious retail experience with a staggering array of high-end boutiques, from fashion to electronics. Yet, it's not just a shopping haven; it's a vibrant entertainment hub too. Explore the mesmerizing Dubai Aquarium, witness the spectacular Dubai Fountain show, or indulge in culinary delights at its diverse restaurants. Whether you're a shopaholic, a foodie, or simply seeking entertainment, the Dubai Mall is a must-visit attraction, offering an unforgettable blend of luxury, leisure, and excitement.

Miracle Garden Dubai:

Miracle Garden Dubai is a mesmerizing floral wonderland, showcasing an array of vibrant blooms and unique sculptures. The entrance price varies depending on age and residency, with children typically having reduced rates compared to adults. It's advisable to check for the most up-to-date Miracle Garden Dubai price information. Once inside, you'll be greeted by a breathtaking garden, featuring intricately designed displays that change with the seasons. Stroll through enchanting pathways, take photos among the stunning floral arrangements, and revel in the charm of this botanical paradise. Miracle Garden Dubai offers an unforgettable experience for nature enthusiasts and photographers alike.

Wild Wadi Water Park:

For a splashing good time, plan a day at Wild Wadi Water Park. To gain entry, you can purchase tickets at the park's entrance or conveniently buy them online in advance. Ticket prices vary based on factors like age, height, and peak or off-peak times. These tickets grant you access to a world of aquatic adventures, including thrilling water slides, wave pools, and lazy rivers. It's a fantastic destination to cool off and have fun with family or friends.

Global Village:

December marks the opening of the Global Village, a multicultural extravaganza. Explore pavilions representing different countries, each offering a rich display of their culture, products, and cuisine. The diverse live entertainment, international shopping, and delectable global cuisines create a festive atmosphere. It's an ideal place to experience the world's diversity right in the heart of Dubai.

Aquaventure Waterpark:

Aquaventure Waterpark, located at Atlantis, The Palm in Dubai, is a premier aquatic playground that promises exhilarating water adventures for all ages. Spanning 42 acres, it features a stunning collection of water slides, thrilling rides, and attractions. The star attraction is the Leap of Faith, a near-vertical waterslide that plunges you through a shark-filled lagoon. You can also enjoy a relaxing drift along the lazy river, encounter marine life in the Lost Chambers Aquarium, or unwind at the pristine private beach. Aquaventure offers an action-packed and refreshing escape from Dubai's desert heat, making it a top destination for water enthusiasts.

Dubai Garden Glow:

Dubai Garden Glow is a magical, illuminated wonderland that transforms Zabeel Park into a dazzling nighttime attraction. Open during the cooler months, this enchanting park features intricate displays of glowing sculptures, colorful light installations, and larger-than-life recreations of wildlife and landmarks from around the world. Its distinct sections, such as the Dinosaur Park and the Ice Park, offer interactive and immersive experiences for visitors of all ages. Dubai Garden Glow is not only a visual spectacle but also an eco-friendly initiative promoting awareness about environmental conservation. It's a perfect family-friendly destination for a mesmerizing evening in the heart of Dubai.

Dubai Dolphinarium:

The Dubai Dolphinarium is a captivating and family-friendly entertainment venue located in Dubai Creek Park, United Arab Emirates. It is renowned for its thrilling dolphin and seal performances, where these highly intelligent marine mammals showcase their agility and talents in a spectacular aquatic show. Visitors can witness these graceful creatures perform acrobatics, jump through hoops, and even interact with the audience.