Travel
10 Best Theme Parks in Europe That You Will Love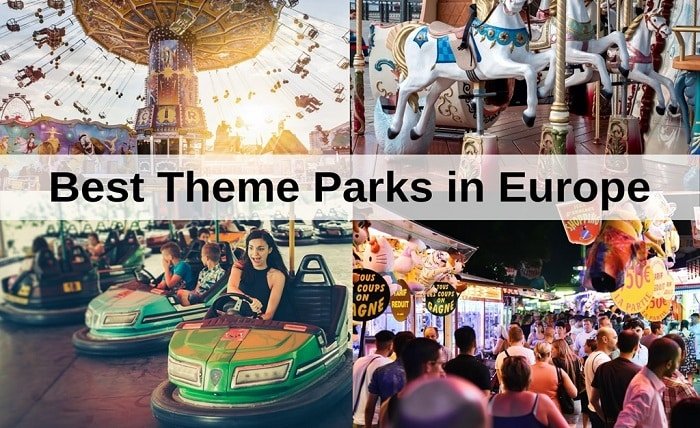 Europe is a continent steeped in history, culture, and natural beauty, but it's also home to some of the most captivating and thrilling theme parks in the world. From the enchanting realms of Disneyland Paris to the whimsical wonders of Efteling Park, Europe offers an abundance of amusement park experiences that cater to every age, interest, and adventure level.
In this article, we'll take you on a journey through the 10 best theme parks in Europe, each with its own unique charm and attractions. Whether you're a die-hard Disney fan, an adrenaline junkie in search of heart-pounding rides, or a traveler looking to immerse yourself in different cultures, there's a European theme park that will leave you spellbound.
From the moment you step foot into Disneyland Paris, where fairy tales come to life against the backdrop of the Eiffel Tower, to the historic charm of Tivoli Gardens in Copenhagen, which has been enchanting visitors for more than a century, these theme parks promise adventure, excitement, and memories that will last a lifetime.
So, fasten your seatbelts, put on your Mickey ears, and get ready for a roller coaster ride through the 10 best theme parks in Europe. Whether you're seeking magic, thrills, or cultural immersion, you're in for an unforgettable journey through the world of European theme parks.
Disneyland Paris – The Enchanted Kingdom
Nestled just outside the romantic city of Paris, Disneyland Paris is a dream come true for Disney enthusiasts and families alike. This magical park offers an enchanting experience with its iconic Sleeping Beauty Castle, thrilling rides, and beloved Disney characters. Whether you're strolling down Main Street, USA, or exploring the mystical lands of Adventureland and Fantasyland, Disneyland Paris guarantees an unforgettable adventure for visitors of all ages.To avoid long queues and skip waiting for your turn, it is advisable to book Disneyland Paris tickets in advance and experience a magical disney adventure like never before.
Efteling Park – A Dutch Fairytale Wonderland
Efteling Park, located in the Netherlands, is a fairytale-themed amusement park that will transport you to a world of enchantment. With its beautifully designed attractions, such as the Fairytale Forest, where classic stories come to life, and the thrilling roller coasters like Baron 1898, Efteling offers a unique blend of fantasy and adrenaline-pumping fun. Efteling's attention to detail and commitment to storytelling make it a standout destination for those seeking a dose of whimsy and adventure. Book your Efteling Park tickets and explore the enchanting world of Efteling immense yourself amidst fairy tales and legends.
Europa-Park – Germany's Premier Theme Park
Europa-Park, located in Rust, Germany, is a massive theme park that celebrates the diversity of European culture. With over 100 attractions and 15 themed lands representing different countries, Europa-Park offers a blend of thrilling rides, live shows, and exquisite cuisine. Don't miss the adrenaline rush of Silver Star or the breathtaking views from the Euro Tower. Europa-Park's dedication to providing an authentic European experience sets it apart as a must-visit destination for those looking to explore the continent's rich heritage while enjoying world-class entertainment.
PortAventura World – A Spanish Adventure
PortAventura World, situated on the beautiful Costa Dorada in Spain, is a thrilling theme park that combines the excitement of roller coasters with the charm of Mediterranean culture. The park boasts attractions like Shambhala, one of Europe's tallest roller coasters, and the aquatic wonders of Costa Caribe Aquatic Park. Plus, the park's proximity to Barcelona makes it a must-visit destination. PortAventura World's ability to merge high-octane thrills with the beauty of Spain's coastal region makes it an ideal choice for a fun-filled family vacation or a thrilling getaway with friends.
Tivoli Gardens – Copenhagen's Historic Gem
Tivoli Gardens in Copenhagen, Denmark, is one of the world's oldest amusement parks and offers a charming blend of nostalgia and modern entertainment. With its iconic wooden roller coaster, Rutschebanen, and beautifully illuminated gardens, Tivoli is a delightful destination for families and couples looking for a magical evening. Tivoli's unique blend of historical charm and contemporary amusements creates a warm and inviting atmosphere that captures the hearts of visitors young and old.
Alton Towers – The UK's Ultimate Thrill Park
Alton Towers, nestled in the heart of England's Staffordshire countryside, is a roller coaster enthusiast's paradise. From the legendary Nemesis to the gravity-defying Oblivion, Alton Towers boasts some of the most thrilling rides in Europe. The park's stunning gardens and historical backdrop add to its allure. Alton Towers' commitment to delivering adrenaline-pumping adventures in a picturesque British setting makes it a top choice for thrill-seekers seeking a unique blend of excitement and natural beauty.
Gardaland – Italy's Amusement Oasis
Gardaland, located near Lake Garda in Italy, is a captivating blend of amusement park and water park. With attractions like the Raptor roller coaster and a host of family-friendly rides, Gardaland offers something for everyone. The adjacent Sea Life Aquarium and the charming Italian setting make it an ideal destination for a summer getaway. Gardaland's ability to cater to a wide range of tastes and ages ensures that visitors of all backgrounds can create lasting memories in this Italian amusement oasis.
Liseberg – Sweden's Entertainment Hub
Liseberg, situated in Gothenburg, Sweden, is one of Scandinavia's top theme parks. It offers a wide range of attractions, from thrilling coasters like Helix to delightful family rides and an enchanting Christmas market during the winter season. Liseberg's vibrant atmosphere and beautiful gardens make it a year-round destination. Liseberg's diverse offerings, combined with its welcoming ambiance, provide an all-encompassing entertainment hub for both locals and tourists looking for an unforgettable Scandinavian experience.
Phantasialand – Germany's Hidden Gem
Phantasialand, located near Cologne, Germany, is a hidden gem among Europe's theme parks. This park boasts a diverse range of attractions, from the thrilling Black Mamba roller coaster to the immersive theming of Klugheim. Phantasialand's attention to detail and unique experiences set it apart. Phantasialand's dedication to delivering a one-of-a-kind experience through innovative attractions and imaginative storytelling ensures that visitors are in for a day of adventure like no other.
Epcot – A Taste of the World in France
Epcot, part of the Disneyland Paris complex, offers a unique blend of culture, technology, and entertainment. The park's World Showcase allows visitors to explore pavilions representing 11 different countries, complete with authentic cuisine, architecture, and entertainment. Additionally, Epcot features thrilling rides like Test Track and Spaceship Earth, making it a must-visit destination for those seeking both education and excitement. Epcot's ability to transport visitors around the globe within a single park creates an immersive and enlightening experience that is both entertaining and educational.