News
Bob Dole: A Life of Service and Leadership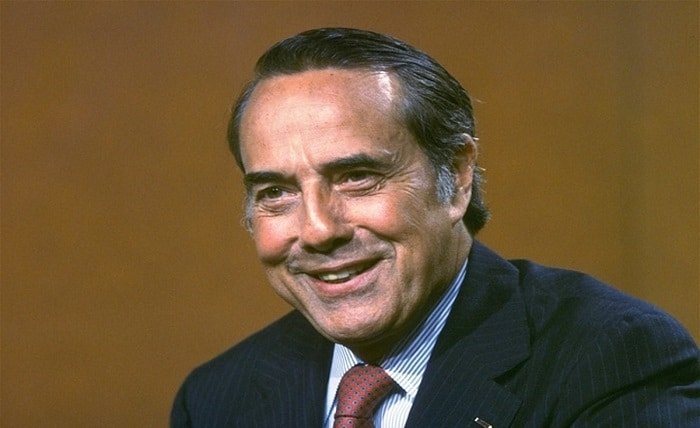 Bob Dole, who died on December 5, 2021, at the age of 98, was a towering figure in American politics for more than half a century. He was a war hero, a senator, a presidential candidate, and a statesman who championed bipartisanship and compromise.
Bob Dole Early Life and Military Service
Dole was born on July 22, 1923, in Russell, Kansas, a small town in the heart of the Great Plains. He grew up during the Great Depression and learned the values of hard work, thrift, and perseverance from his parents, who ran a modest grocery store.
He attended the University of Kansas on an athletic scholarship, where he excelled in football, basketball, and track. He planned to become a doctor, but his studies were interrupted by World War II. He enlisted in the Army in 1942 and joined the 10th Mountain Division, an elite unit trained for combat in harsh terrain.
In April 1945, during the final weeks of the war in Europe, Dole was severely wounded by German machine gun fire while leading an assault on a hill in Italy. He suffered multiple injuries, including a shattered right shoulder and a spinal cord damage that left him temporarily paralyzed from the neck down. He spent three years recovering in military hospitals, undergoing several surgeries and grueling physical therapy. He regained much of his movement, but his right arm remained mostly useless for the rest of his life.
Dole's wartime experience shaped his character and outlook. He later said that he learned "to be optimistic" and "to never give up" from his ordeal. He also developed a lifelong commitment to helping veterans and people with disabilities. He received several decorations for his service, including the Purple Heart and the Bronze Star.
Bob Dole Political Career
After returning home from the war, Dole resumed his education at Washburn University in Topeka, Kansas, where he earned a bachelor's degree in 1952 and a law degree in 1953. He then embarked on a political career that spanned six decades.
He began as a county attorney in Russell County, Kansas, from 1953 to 1961. He then served as a member of the Kansas House of Representatives from 1951 to 1953 and as a member of the U.S. House of Representatives from 1961 to 1969. In 1968, he was elected to the U.S. Senate, where he represented Kansas for nearly 30 years.
In the Senate, Dole rose to become one of the most influential and respected leaders of the Republican Party. He served as chairman of the Republican National Committee from 1971 to 1973, chairman of the Senate Finance Committee from 1981 to 1985, and leader of the Senate Republican Conference from 1985 to 1996. He was also the Senate Majority Leader from 1985 to 1987 and from 1995 to 1996, and the Senate Minority Leader from 1987 to 1995.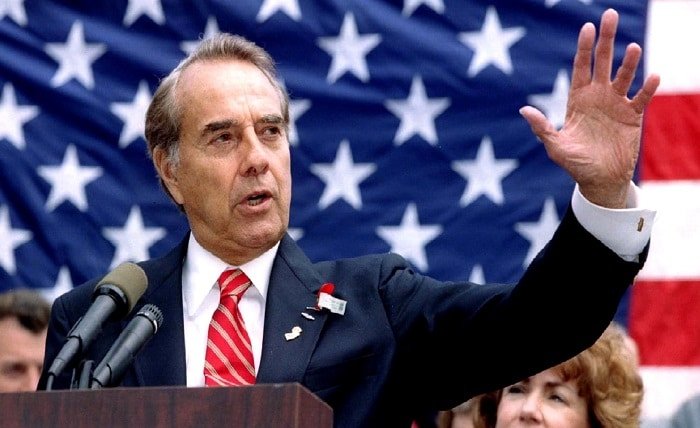 Dole was known for his pragmatic and pragmatic approach to legislating. He worked across party lines to forge consensus on many important issues, such as Social Security reform, tax cuts, budget deficits, trade agreements, civil rights, disability rights, nutrition programs, farm subsidies, and foreign policy. He was also a staunch defender of American interests and values abroad. He supported NATO expansion, humanitarian interventions in Bosnia and Kosovo, sanctions against Iraq and Iran, and aid to Israel.
Dole also sought higher office several times. In 1976, he was Gerald Ford's vice presidential nominee, though they lost to Jimmy Carter and Walter Mondale. In 1980, he ran for president but dropped out after poor showings in the primaries. In 1988, he ran again but lost the nomination to George H.W. Bush. In 1996, he finally clinched the GOP nomination for president but lost to Bill Clinton.
Bob Dole Later Years
After retiring from the Senate in 1996 to focus on his presidential campaign, Dole remained active in public life. He became a senior counsel at a law firm, a commentator on television and radio shows, a lecturer at various universities, and an author of several books. He also continued his advocacy for veterans, people with disabilities, and humanitarian causes. He co-chaired the commission that built the National World War II Memorial in Washington, D.C., and led the fundraising campaign for the Dwight D. Eisenhower Memorial. He received the Presidential Medal of Freedom in 1997 and the Congressional Gold Medal in 2018 for his distinguished service to the nation.
Read more about Bruce Leethe martial arts legend
Dole faced several health challenges in his later years. He was diagnosed with prostate cancer in 1991, but recovered after surgery and radiation therapy. He suffered from aortic aneurysms in 2001 and 2009, but survived after undergoing operations. He was diagnosed with stage four lung cancer in 2021, and began treatment.
Dole died on December 5, 2021, in Washington, D.C., at the age of 98. He was survived by his wife, Elizabeth Hanford Dole, a former senator and cabinet secretary, and his daughter, Robin Dole, from his first marriage to Phyllis Holden, which ended in divorce in 1972. He was buried at Arlington National Cemetery with full military honors.
Dole was widely mourned and praised by leaders and citizens from across the political spectrum. President Joe Biden called him "an American statesman like few in our history" and "a friend whom I could look to for trusted guidance, or a humorous line at just the right moment to settle frayed nerves." Former President Bill Clinton said he "was a patriot who put country over party, never lost his sense of humor, and never gave up." Former President George W. Bush said he "was a man of honor, a war hero, a leader of the Senate, and a friend." Former President Barack Obama said he "was an American original who earned his reputation for straight talk by telling it like it was." Former President Donald Trump said he "was a great American patriot who loved our country and fought for it until the very end."
Dole's legacy lives on in the laws he helped enact, the institutions he helped build, the causes he championed, and the millions of lives he touched. He was a man of courage, conviction, and compassion who embodied the best of America.
Conclusion
Bob Dole was a remarkable American who dedicated his life to serving his country and his fellow citizens. He overcame adversity, achieved excellence, and exemplified leadership. He was a loyal Republican, but also a pragmatic and principled legislator who sought common ground and cooperation. He was a fierce competitor, but also a gracious and generous opponent who respected his rivals and befriended them. He was a serious and sober statesman, but also a witty and warm-hearted human being who enjoyed humor and laughter. He was a patriot who loved America and fought for its ideals and interests, but also a global citizen who cared about the world and its people. He was, in short, a model of what a public servant should be.
Bob Dole left behind a rich and lasting legacy that will inspire generations to come. He also left behind a void that will be hard to fill. He will be sorely missed, but fondly remembered. He will be honored, but never forgotten. He will be, as he once said of himself, "a bridge to a better future."