News
Gangtok: A Jewel in the Himalayas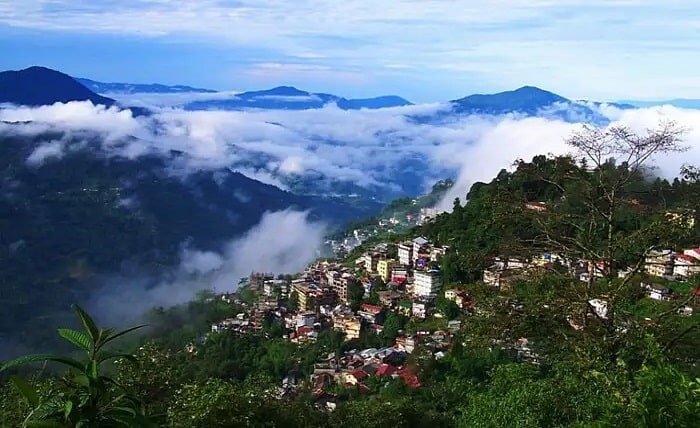 Gangtok is a city that offers a unique blend of tradition and modernity, nature and culture, adventure and relaxation. It is the capital and the most populous city of the Indian state of Sikkim, and also the headquarters of Gangtok District. Gangtok is located in the eastern Himalayan range, at an elevation of 1,650 m (5,410 ft) . The city's population of 100,000 consists of the three Sikkimese ethnicities – the Bhutias, Lepchas, Nepalis – and also plainsmen from other states of India . Gangtok is a popular tourist destination, as it is the gateway to the enchanting beauty and rich heritage of Sikkim.
History of Gangtok
The history of Gangtok dates back to the 17th century when it was a small hamlet inhabited by the Lepcha people. The name "Gangtok" means "hill cut" in the local language . In 1716, a hermitic Gangtok monastery was built by a Tibetan lama, which attracted many pilgrims . In 1840, another monastery, Enchey, was built by a Nyingma lama, which made Gangtok a prominent Buddhist center .
In 1894, Thutob Namgyal, the Sikkimese monarch under British rule, shifted the capital from Tumlong to Gangtok, increasing the city's importance . In the early 20th century, Gangtok became a major stopover on the trade route between Lhasa in Tibet and cities such as Kolkata (then Calcutta) in British India . After India won its independence from the British Empire in 1947, Sikkim chose to remain an independent monarchy, with Gangtok as its capital. After Sikkim's merger with India in 1975, Gangtok continued as the state capital.
Culture of Gangtok
Gangtok is a city that celebrates its culture and diversity with pride and joy. It hosts various festivals and events throughout the year, such as Losoong (Sikkimese New Year), Saga Dawa (Buddha's birth anniversary), Dasain (Dussehra), Tihar (Diwali), Christmas, and Maghe Sankranti. The city is known for its traditional music and dance forms, such as Chyabrung (drum dance), Singhi Chham (lion dance), Yak Chham (yak dance), and Maruni (mask dance). Gangtok is also famous for its cuisine, which includes delicacies such as momos (dumplings), thukpa (noodle soup), phagshapa (pork stew), sel roti (rice bread), and chhurpi (cheese).
Read more about Coorg
Gangtok has a vibrant art and literature scene, with many artists, writers, poets, and musicians living and working here. The city has several museums, galleries, libraries, and theaters that showcase the local talent and creativity. Some of the notable cultural attractions in Gangtok are:
Namgyal Institute of Tibetology: This institute is a research center that studies Tibetan culture, religion, history, language, art, and literature. It has a museum that displays a rare collection of Tibetan manuscripts, thangkas (paintings), statues, coins, and ritual objects .
Do Drul Chorten: This is a stupa that was built in 1945 by Trulshik Rinpoche, a revered Nyingma lama. It has 108 prayer wheels around it and contains relics of Guru Padmasambhava, the founder of Tibetan Buddhism .
Flower Exhibition Centre: This is a botanical garden that exhibits various species of flowers, orchids, ferns, and cacti. It also hosts an annual flower show in spring .
MG Marg: This is a pedestrian-only street that is the main shopping and dining hub of Gangtok. It has many shops, cafes, restaurants, bars, and hotels that offer a variety of goods and services. It also has a musical fountain show in the evening .
Adventure Activities in Gangtok
If you are looking for some adventure in Gangtok, you can try some of these activities:
Nathula Pass: This is a mountain pass that connects Sikkim with Tibet. It is one of the highest motorable roads in the world, at an altitude of 4, 310 m (14, 140 ft). It offers stunning views of the snow-capped peaks and valleys. You can also visit the Baba Harbhajan Singh Memorial Temple, a shrine dedicated to an Indian Army soldier who died near the pass .
White River Rafting in Teesta River: This is a thrilling activity that lets you experience the rapids and currents of the Teesta River, one of the major rivers of Sikkim. You can choose from different levels of difficulty, ranging from grade 1 to 4, depending on your skill and preference. You can also enjoy the scenic beauty of the river banks and the surrounding hills .
Cable Car Ride: This is a fun way to get a bird's eye view of Gangtok and its surroundings. The cable car has three stations: Deorali, Namnang, and Tashiling. You can hop on and off at any station and enjoy the panoramic views of the city, the mountains, and the valleys .
Himalayan Zoological Park: This is a wildlife sanctuary that covers an area of 205 hectares. It houses various species of animals that are native to the Himalayan region, such as red pandas, snow leopards, black bears, yaks, and deer. You can also spot many birds, reptiles, amphibians, and insects in the park .
Conclusion
Gangtok is a city that has something for everyone. It is a city that blends the ancient and the modern, the natural and the cultural, the serene and the adventurous. It is a city that will leave you spellbound by its charm and beauty.