Travel
10 Best Attractions in Bangkok To Visit With Kids!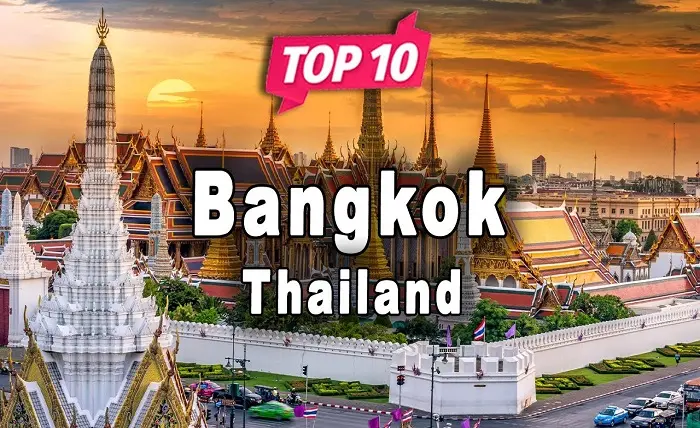 Bangkok, the bustling metropolis known for its vibrant culture and rich history, is also a treasure trove of family-friendly attractions. For parents traveling with kids, the city offers an array of exciting and educational experiences. From wildlife adventures at Safari World Bangkok to the whimsical delights of Dream World Bangkok, this article explores the top ten attractions designed to captivate young hearts and curious minds. Whether you're looking for thrilling adventures, immersive learning opportunities, or a blend of both, Bangkok has something to offer every family seeking to create lasting memories in this dynamic city. Let's embark on a journey through the 10 Best Attractions in Bangkok To Visit With Kids.
Safari World Bangkok: A Wild Adventure
Safari World Bangkok is an exhilarating experience for families with kids. Nestled on the outskirts of the city, this expansive park transports you to the heart of the animal kingdom. Children will be captivated by the close encounters with a wide array of exotic creatures. From majestic lions and powerful tigers to graceful giraffes and spirited zebras, Safari World offers a unique blend of education and entertainment. The park's safari drives provide a thrilling opportunity to observe animals in settings closely resembling their natural habitats. Generally, Safari World Bangkok ticket price ranges from THB 700 to THB 800 for adults and THB 450 to THB 600 for children which grants entry to the park with all of the animal shows held inside the premises. Additionally, the Marine Park segment introduces your family to entertaining animal shows, including dolphin and sea lion performances. It's an immersive adventure that fosters an appreciation for wildlife conservation while ensuring an unforgettable day for your kids.
Dream World Bangkok: Where Imagination Soars
Dream World Bangkok is a haven of whimsy and excitement that ignites the imagination of children and adults alike. Situated just outside the city, this amusement park promises a day filled with thrilling rides and captivating attractions. From adrenaline-pumping roller coasters to family-friendly rides, Dream World offers something for every age group. It is advisable to check for the most up-to-date Dream World Bangkok ticket price information to have an idea about the marvelous amusement park beforehand. The park's Snow Town, a surreal winter wonderland in a tropical setting, allows kids to experience the joy of snowfall, making it a unique experience in Thailand. With a variety of thrilling rides and attractions, including roller coasters and water slides, it's a paradise for thrill-seeking kids. Tickets range from THB 450 to THB 600 for the Adrenaline Filled Amusement park.
Madame Tussauds Bangkok: A Wax Museum Experience Like No Other
Madame Tussauds Bangkok is a dazzling and immersive attraction that brings the world of wax figures to life in the heart of Thailand's vibrant capital. Located within the bustling Siam Discovery shopping complex, this museum offers visitors a unique opportunity to get up close and personal with lifelike wax replicas of some of the world's most famous celebrities, historical figures, and cultural icons.Whether you're a movie buff, a history enthusiast, or just looking for a fun and memorable day out, Madame Tussauds Bangkok has something for everyone. A single admission ticket in this one-of-a-kind wax museum costs around THB 450 to THB 1000. Children below the age of 3 can avail free admission. It's a fantastic place to capture unforgettable moments and create lasting memories while exploring the world of fame and glamor in the heart of Thailand's bustling capital.
Sea Life Bangkok Ocean World: Dive into Adventure
Located in the heart of bustling Bangkok, Sea Life Bangkok Ocean World offers an awe-inspiring underwater adventure for kids and families. This aquarium boasts a vast array of marine creatures, providing children with the opportunity to explore the wonders of the ocean without getting wet. The underwater tunnels, with sharks and stingrays gliding overhead, are a highlight that will leave kids wide-eyed with wonder. In addition to the impressive marine life displays, Sea Life Bangkok Ocean World hosts interactive exhibits and informative presentations about marine conservation. Sea Life Bangkok Ticket ranges from THB 800 to THB 1300 depending upon the slubbed offers included. Kids can learn about the importance of preserving the oceans and the creatures that inhabit them. The touch pools, where they can interact with sea stars and other fascinating creatures, add an extra layer of engagement to this educational experience.
Bangkok Art and Culture Center: A Creative Exploration
The Bangkok Art and Culture Center (BACC) is a treasure trove of creativity that can inspire kids and adults alike. Located in the heart of the city, BACC offers a range of art exhibitions, workshops, and performances suitable for all ages. For children, there are often interactive exhibitions designed to engage their creativity. Hands-on workshops allow kids to experiment with various art forms, from painting and sculpture to crafts and digital media. BACC also hosts cultural events and performances that showcase Thailand's rich heritage, providing a fun and educational experience for the entire family.
Dusit Zoo Park: A Day with Wildlife
Dusit Zoo may have closed its doors, but Dusit Zoo Park is a nearby alternative that still offers a fantastic experience for families. The park provides a serene setting with lush greenery, perfect for picnics and outdoor activities. While it no longer houses animals, Dusit Zoo Park is a great place for kids to enjoy nature and play. There are playgrounds where children can run, climb, and have fun. The park also features a large lake with paddle boat rentals, allowing families to relax and enjoy a leisurely ride on the water. It's an excellent spot for a tranquil day outdoors in the heart of the city.
Siam Park City: Splash and Thrills
Siam Park City is one of Bangkok's oldest and most beloved amusement parks. It's a thrilling destination that combines water rides and roller coasters, making it a perfect choice for families seeking both excitement and fun. The water park section of Siam Park City boasts a wide variety of attractions, including exhilarating slides, wave pools, and lazy rivers. Kids can splash and play in a safe and controlled environment while parents relax in the shade. The amusement park area offers a mix of thrilling rides, from the Tornado roller coaster to the classic bumper cars, ensuring a day filled with laughter and adventure.
Queen Saovabha Memorial Institute Snake Farm: Slithering Education
If your kids have a fascination with reptiles and a desire to learn about snakes and venomous creatures, the Queen Saovabha Memorial Institute Snake Farm is an educational yet captivating choice. Situated within the Queen Saovabha Memorial Institute, this facility aims to educate visitors about snakes, their behavior, and the importance of snake conservation. The farm hosts daily snake handling demonstrations where experts showcase various snake species, allowing visitors to observe them up close. These demonstrations are both entertaining and informative, shedding light on these often-misunderstood creatures. The farm also houses a diverse collection of snakes, including some of the world's most venomous species, making it a truly unique educational experience for children and adults alike.
Lumphini Park: Nature in the City
Lumphini Park is an oasis of tranquility in the bustling heart of Bangkok. This expansive green space offers a peaceful retreat for families looking to escape the city's hustle and bustle. Children can enjoy a range of activities in the park, from renting paddle boats and cruising on the serene lake to playing in the well-equipped playgrounds. The park's wide paths are perfect for leisurely strolls or bike rides, and there are often outdoor fitness classes and events that the whole family can join. Lumphini Park provides a welcome break from the urban chaos and a chance to connect with nature in the middle of the city.
Funarium Bangkok: Indoor Play Paradise
Funarium Bangkok is an indoor play center that caters to children's need for physical activity and creative play, especially when the weather is less than ideal. This spacious and well-designed facility offers a range of activities and play zones suitable for kids of various ages. Inside the Funarium, children can scale climbing walls, navigate obstacle courses, engage in imaginative role-play, and even try their hand at arts and crafts. The facility places a strong emphasis on safety, cleanliness, and providing a stimulating environment for children to explore and learn through play. It's a perfect option for families seeking an active and enjoyable indoor experience in Bangkok.