Fashion
What Is So Appealing About Black Velvet Curtains?
Curtains are an indispensable part of home decor which not only provide privacy protection but also regulate the light and atmosphere of the room. Among the many types of curtains, black velvet curtains have become a fashionable choice for many people with their unique style and material. Black velvet curtains give a feeling of luxury and elegance, adding a unique charm to the home. So this next article will explain to you the charm of these curtains.
The Charm Of Black Velvet Curtains
Elegant Appearance
First of all, black velvet curtains stand out for their rich texture and regal appearance. Velvet is a high-quality textile fabric with a soft, silky touch. It can be designed and accessorized with further creativity based on personal preference and room style. For example, you can choose to mix and match black velvet curtains with other materials to add visual layers and richness. Combining tulle curtains or linen curtains with black velvet curtains can maintain privacy while allowing soft natural light to spill into the room through the curtains.
Decorative
Secondly, black velvet curtains are highly decorative. And this curtain can also be enhanced by adding some decorative elements to enhance its uniqueness. You can choose to add embellishments such as tassels, flutter bands, or beads to the top of the curtains to show off the personalized style and details. These small details will add a touch of sophistication and grandeur to the curtains and make the whole room more striking.
Good Light-blocking Effect
Black velvet curtains offer good light blocking. Because the velvet fabric itself has a high density, it can effectively block light from penetrating. Black velvet curtains are an ideal choice for rooms that need to be kept private and protected from direct sunlight. Not only does it provide good privacy protection, but it can also create a warm and cozy space for you during the day. Additionally, black velvet curtains are perfect for audio/video rooms or home theaters. The density and thickness of velvet curtains can effectively block out outside noise and provide good sound insulation. This is important for those who seek a high-quality audio experience and an immersive viewing experience.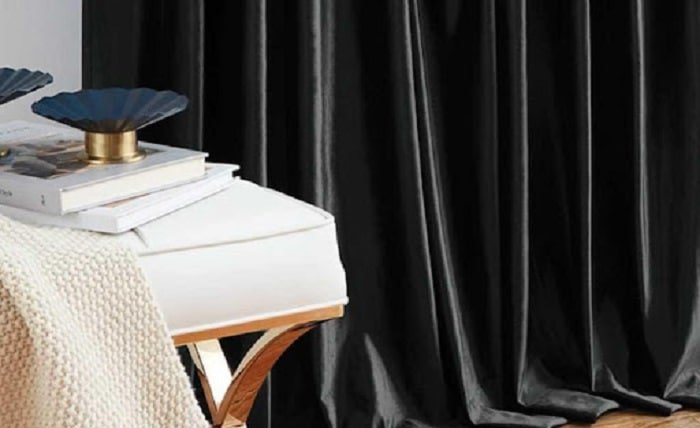 Diversity Of Styles
When picking black velvet curtains, you'll also want to consider the size of the window and the overall style of the room. If you have a small room, you can choose black velvet curtains in a minimalist style to avoid giving a dull and depressing feeling. While in a large living room or conference room, you can choose black velvet curtains that have ornate decorations and pleated designs to increase the visual hierarchy of the room. 
Moreover, to ensure the quality and durability of black velvet curtains, it is recommended to choose a reputable curtain supplier and scrutinize the material and craftsmanship details. In addition, you also need to pay attention to some tips in terms of use and cleaning. Velvet curtains usually need to be dry-cleaned or gently hand-washed to maintain their texture and luster. For daily use, you can use a vacuum cleaner or a soft-bristled brush to gently remove dust.
Summary
Overall, black velvet curtains are ideal for many people because of their luxury, elegance and versatility. Whether you use them in your living room, bedroom or office, black velvet curtains can bring a sense of nobility and taste to the room. With proper matching and decoration, you can create a unique and exquisite home space, making black velvet curtains the highlight and focal point of the room. Whether it's day or night, you can enjoy the comfort, warmth and beauty that black velvet curtains bring.