News
How to Monday Loging Comprehensive Guide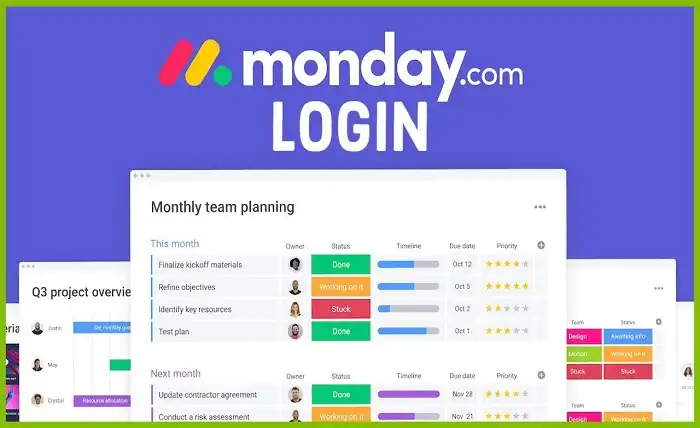 In today's fast-paced business landscape, streamlining workflows and enhancing collaboration is crucial for success. Monday.com, a work management platform, has emerged as a powerful tool for teams of all sizes, providing a centralized hub for organizing tasks, tracking progress, and fostering teamwork. To fully harness the benefits of Monday.com, a seamless login process is essential. This guide will equip you with the knowledge to navigate the login process, explore your workspace, and maximize the potential of Monday.com.
Navigating the Login Process: A Step-by-Step Guide
Accessing the Login Page: Begin by visiting the Monday.com website at https://monday.com/. In the top right corner of the homepage, you will find the 'Login' button. Click on this button to proceed.

Entering Your Credentials: On the login page, you will be prompted to enter your email address and password. Ensure that you are using the email address associated with your Monday.com account. If you have forgotten your password, click on the 'Forgot Password?' link below the log in fields.

Completing the Login Process: Once you have entered your correct email address and password, click on the 'Log In' button. You will be redirected to your Monday.com workspace.
Exploring Your Monday.com Workspace: A Guided Tour
Upon successful login, you will be greeted by your Monday.com workspace, a centralized hub for managing your work. Here's a breakdown of the key elements:
Dashboard: The dashboard provides an overview of your current projects, tasks, and deadlines. It serves as a central location to track progress and identify priorities.

Boards: Boards represent individual projects or workflows. Each board contains a series of customizable columns to organize and manage tasks.

Groups: Groups allow you to categorize boards based on projects, departments, or other relevant criteria. This facilitates easy navigation and filtering.

Views: Monday.com offers a variety of views to visualize your work, including Kanban, calendar, and timeline views. Choose the view that best suits your project or workflow.
Making the Most of Monday.com: Unleashing Its Features
Monday.com is packed with features to streamline your work processes and enhance collaboration. Here are some key features to explore:
Task Management: Create, assign, and track tasks within your boards. Set deadlines, add attachments, and collaborate with team members seamlessly.

Automations: Automate repetitive tasks using Monday.com's automation builder. Set up rules to move tasks between columns, send notifications, and more.

Integrations: Connect Monday.com with your favorite tools, such as Slack, Gmail, and Dropbox, to create a unified workspace.

Reporting: Generate comprehensive reports to gain insights into project progress, team performance, and resource utilization.
Conclusion
Monday.com has revolutionized the way teams manage their work, providing a centralized platform for organization, collaboration, and productivity. By mastering the login process, exploring the workspace, and leveraging its powerful features, you can unleash the full potential of Monday.com and transform your team's work experience.
Frequently Asked Questions (FAQs)
Q: How do I create a new Monday.com account?
A: To create a new Monday.com account, visit the homepage and click on the 'Get Started' button. You will be guided through the signup process, which involves providing your email address, creating a password, and selecting a pricing plan.
Q: What happens if I forget my password?
A: If you have forgotten your password, click on the 'Forgot Password?' link on the login page. Enter your email address, and you will receive instructions on resetting your password.
Q: Can I access Monday.com from my mobile device?
A: Yes, Monday.com offers mobile apps for iOS and Android devices, allowing you to manage your work on the go.
Q: What are the different pricing plans for Monday.com?
A: Monday.com offers a variety of pricing plans to suit different team sizes and needs. Explore the pricing page to find the plan that best aligns with your requirements.